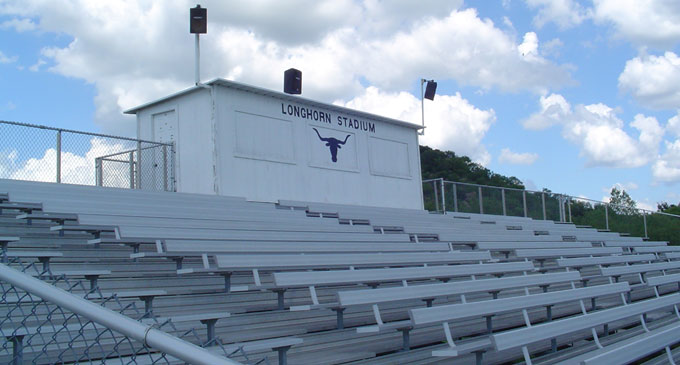 Longhorn Stadium is well known as one of the the nicest six-man football facilities in the state of Texas. It was completed in 1994 on the site of the original stadium. The stadium is equipped with aluminum bleachers on both home and visitor sides with a capacity of around 3,000 spectators. A rubberized track circles the field with a 12 foot wide concrete walkway around the outside. The stadium features two field houses, one complete with a large concession stand and covered spectator porch. In the summer of 2007 a new LED scoreboard system was installed with second clocks in each endzone.





Longhorn Stadium has held the following special events/games, among others:
Stadium Opening Game- Gordon vs Zephyr, Aug 1994
Exibition Game- Gordon vs Revere, CO - Oct 1994
Exibition Game- Gordon vs Bjorkdale, Canada 1996
Exibition Game- Gordon vs Jackson, MS - Oct 1997
Exibition Game- Gordon vs Powers, OR - 1998
All-Americas Bowl- 1999
Exibition Game- Gordon vs Galveson, TX - 1999
Bi-District Playoffs- Gordon vs Woodson - 1999
All-America's Bowl- 2000
Semifinals- Private School Matchup - 2000
Quarterfinals- Aquilla vs Trent - 2000
All-Americas Bowl- 2001
All-Americas Bowl- 2002
Semifinals- Heritage Christian vs Abilene Christian - Dec 12, 2006



DIRECTIONS TO LONGHORN STADIUM - GORDON, TX
Click Here For an Interactive Map
Gordon is located appx 50 miles due west of Ft. Worth (70 miles due east of Abilene) just two miles north of Interstate 20. Coming from the West: Take the first Gordon exit (at the Bar-B Truck Stop), head north on Hwy 919. Coming From the East: Take the 2nd Gordon exit (at the truck stop) and head north on Hwy 919 . Coming from the South (From Stephenville): Follow Hwy 108 north out of Stephenville and continue going straight. At I-20 Hwy 108 merges in to Hwy 919. Once you are on Hwy 919: head north into town, the stadium is located 3 blocks past the rail-road, to the right about a block. If its dark you cannot miss it. If you are Coming from the North: Hwy 919 that runs south into Gordon begins off of Hwy 180 that runs East and west between Mineral Wells and Brekenridge. The 919 exit off of 180 is appx 10 miles west of the town of Palo Pinto. If you enter Gordon from the north simply take the first left in town (you will see the stadium to your left). For more stadium information please call (254)693-5582.
"The Internet Home of the Gordon Longhorns Since June 27, 1999."
This site is privately owned and operated. Click here for disclaimer.
GORDONLONGHORNS.COM Copyright ©1999-2019, All Rights Reserved.
All images and data, including historical data, found on this site are subject to this copyright.